July 4 -2018 Independence Day
I have not written in forever – well I have written but not published it – I was going through a funk.  In my last entry I was writing about my sewing block (as in creative block as opposed to quilt block) that lasted months(!).. and  happy to say that I am NOW back on track and finished  a piece and starting working on a new one .
The piece I finished I may be enter into the "EDGE" show and before I post a
picture – I need to read the requirements- because sometime the "quilt Police" specify no pre-posting of photos.  Luckily since I am only in the concepting phase for my next piece- and I know it will change a million times- I am posting pictures of my "components". I am working on this to perhaps enter it in SAQA's "Shifting Tides" show.  Here is my starting sketch – which is already history with regards to my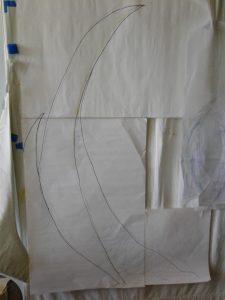 component pieces.  And, as usual, I have no idea where this piece is going and have decided to just trust myself and keep making pieces.  Once done with making these pieces,  I'll figure out how they all (or most of the components) will fit together.   The voice in my head said "Just Sew!  … it doesn't matter if you don't know where you are going!  Enjoy sewing blind with no definite end in sight".  SO I will continue and sew and liberate myself.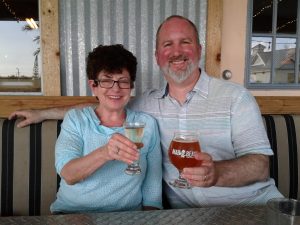 And in the other aspects of my life –   I turned 65 in May. James and I visited my best pal Linda in Florida and had fun.  The realization that I turned 65 is totally blowing my mind. I am officially a SENIOR citizen!  How did this happen to me?  I was even given a discount at the weed store!  (I live in Portland OR- what can I say?) What else am I up to?Enjoyed the rose parade.  And the Car exhibit at the Portland Art Museum is a treat.
Hope everyone has a wonderful 4th of July and liberates their hearts and souls.  May we all be blessed with freedom love and our families!