Holy Crap! It is 2 months since my last entry!  I swore last time I was going to post once a week. It's not that I just haven't written  – but I have been busy!.  I finished my very experimental piece.  It has 2 titles.  1) "Firmament"  – the space between heaven and earth where there is no focus. It is the place "between being and becoming", where nothing is solid – all is in motion . This piece also represents "My Winter" – This the stage of my life that I am entering now – I am no longer as vibrant as I once was. However, I have much more texture, depth and dimension. And a few more wrinkles too.  What I love about this piece (which photographs quite differently depending on the light) is how it honors fabric.  It is composed of layers – commercial batik, hand dyed silk and organza, cheesecloth and hand stitched.  The texture of  fabric is the focus!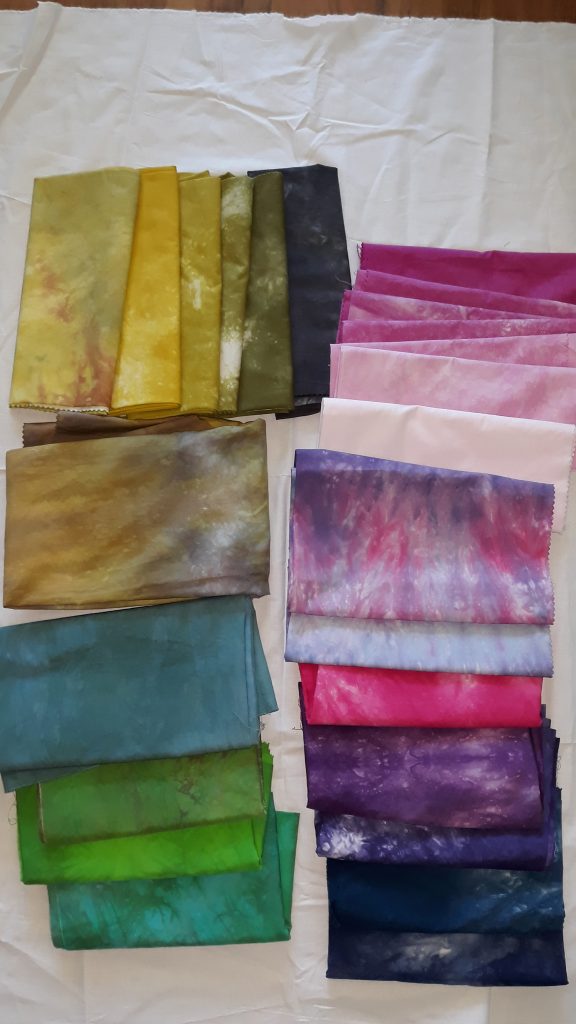 Next I took a Fabric dye class with Bonnie Bucknam and in one day I hand dyed 20 yards of fabric! It was experimental experience to say the least.  (This is my favorite result –as well as all 20 yds).  And it took 2 days to do rinse them –"until the water ran clear" and another day to recover.  I love color so this was a real treat for me.
And week ago I took Betty Busby's 3 day workshop through Columbia Fiber Guild. The photo shows what I made in 3 days— We painted silk, and cotton, made sun prints with leaves and funky textures, used one on my favorite supplies- Shiva paint sticks in a totally new way for me, Betty cut out my original design in her silhouette printer on a non-woven surface; we colored the fabrics with more paint, ink tense pencils and all sorts of markers. AND THE LIST GOES ON!  It was a whirlwind experience and so much fun.
Finally I am making a 'beta test' of stitching a whole cloth graphic piece…. I need to find out about heavier thread…
Now I have all these new tools and fabric – I think I will have to continue to experiment for a while longer—so I can get a clearer vision of what I want to make.
Hopefully I will write more frequently – and I am always thrilled to be making art!