They say start where you are – so I will.  It is a new year for me – Fall and change in weather; beginning of the school year; the Jewish new year- all make me feel  like a new cycle is beginning –so I will begin here and now.
I just got back from a workshop in Sisters Oregon with Jeannette DeNicolis Meyers that was fabulous.  It was working with sheer fabrics- organza and other translucent materials.  I took the opportunity to just play and experiment because these materials are completely different than any other fabric with which I have worked.  It was an incredible experience as this was the first time in a workshop- instead of trying to create a "masterpiece" (LOL)- I would just play.  Ideas came to me and I actually brought them into manifestation.  Some were meh, some were crappy AND some are the seeds of future projects!  I felt like, for the first time, I was actually honoring my ideas.  Photos are of my design wall with all my little thumb nail projects posted above.
On another note- my piece I entered into the High Fiber Diet Challenge, "HeatWave : NYC" was rejected… boo hoo.  SO I entered it and one of my older pieces "Rio Verde" into the Excellence in Fibers call for entry.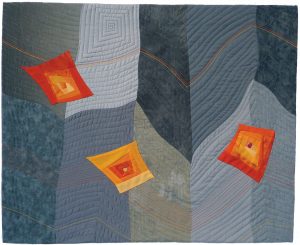 I hope to post more (and they may have less words and more pictures like this one).  So stay tuned!!!   I feel like I am beginning a new chapter of my work and looking forward to expanding and growing.  Happy Fall to all and happy new beginnings as well.